Tamil Nadu Public Distribution System (TNPDS): The goal of the Public Distribution System in Tamil Nadu is to ensure to distribute food and security to all citizens, particularly poor people, by making available essential commodities of good quality at affordable prices every month, through fair price shops which are easily accessible.
TNPDS has introduced the new system called Smart Ration Card to all citizens in tamil nadu previously it was called Family Card. So what is the major difference between both?
In Family Card there was a manual entry system, and the beneficiary need to safely carry the family card on every single time they buy the commodities in nearby shops. Also this is really old system for the both public & government to handle. So they decided to introduce the Smart Card System includes with aadhar card information name, address, family members and bio metric system to identify real & fake beneficiaries.
Using this system family heads can be easily able to apply for a new ration card or Change or remove member from family card through online. This initiative benefits to people for reduce the time and cost. This service was actually effective from 2016. Very useful service for new family card members can be easily applied through online mode with some necessary documents.
Types of Smart Ration Card in TN
| | |
| --- | --- |
| PHHRICE | அனைத்து பொருட்களும் கிடைக்கும் |
| PHHA | 35 கிலோ அரிசி உட்பட அனைத்து பொருட்களும் கிடைக்கும் |
| NPHH | அரிசி உள்ளிட்ட அனைத்து பொருட்களும் கிடைக்கும் |
| NPHHS | சர்க்கரை மட்டும் கிடைக்கும் |
| NPHHNC | எந்த பொருட்களும் இல்லை |
TNPDS New Smart Card in Tamilnadu
Scheme Name
TNPDS Smart Card
Department
Tamil Nadu Public Distribution System
Website
https://www.tnpds.gov.in
TNPDS Smart Ration Card Procedure
1. Apply through Online
2. Through Point of Sale device (in shop)
3. Through Mobile Application
Change Address & Phone no Details
Click for made changes
TNPDS Smart Card Status Check
Click for status check
TNPDS Smart Card Reprint & Status
Click for reprint
3 different ways to apply and obtain TNPDS Smart Card:
Through Point of Sale Machine
Through Online TNPDS Website
Through TNPDS Mobile App
So in this article we will explain how to apply for a new smart card application through TNPDS online portal in Tamil Nadu.
Documents that required to Apply Ration Card Online:
Before starting an online application, users need to keep some important certificates to upload online. Use a scanned copy of Voter ID or Aadhaar Card.
How to Apply for New TNPDS Smart card online in Tamil nadu
Step 1: Visit Official TNPDS Website and click "Smart Card Application" Option.

Step 2: Fill the application form with all necessary details such as
Enter Family Head Name, Father/ Husband Name, Address Line (both English and Tamil)
Family Head Photo (Under 5 MB Size, jpeg, png format)
District, Taluk, Village, Pincode, Mobile Number.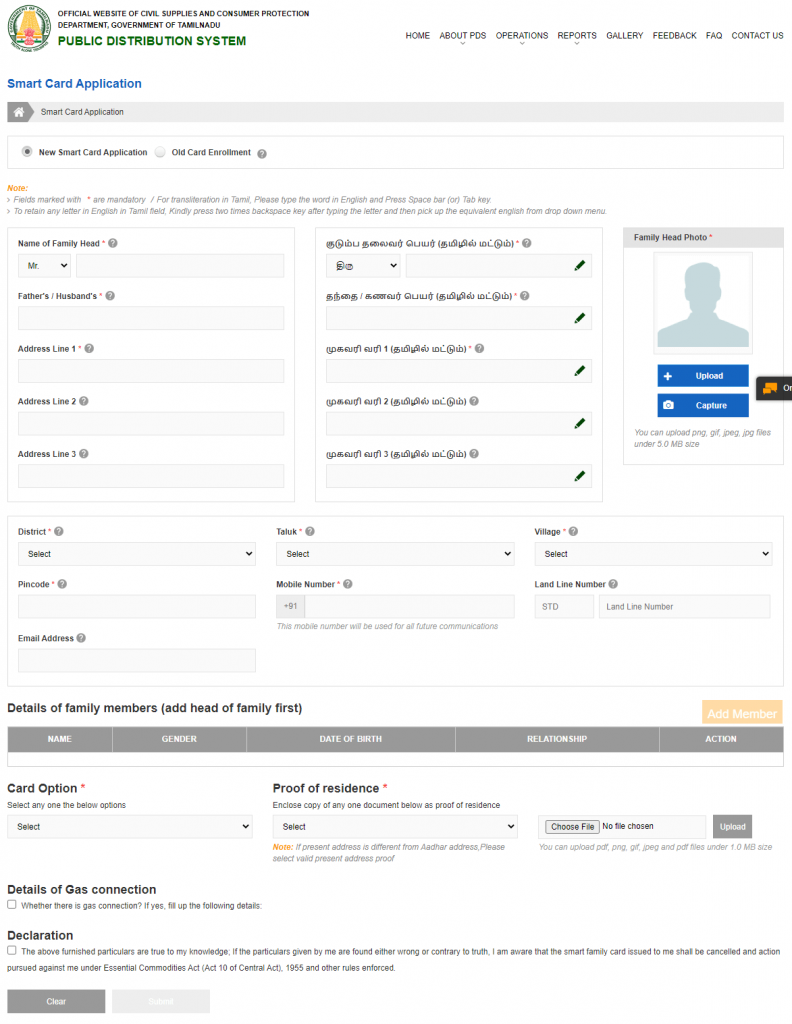 Step 3: Details of family members (add head of family first)
Applicants want to enter the complete family members name along with DOB, Gender and relationship Information.
Step 4: Choose Card Option which you belongs to
– No commodity
– Rice Cards
– Sugar cards
Step 5: Upload your proof of residence scanned documents.(Voter ID, Aadhaar Card)
Step 6: Complete the Gas Connection and declaration details and press 'Submit" button.
If you want to make changes in the form click "Clear" and re-enter the right details.
Also Read TNPDS Ration Shop List
TNPDS Smart Card Application Status
Step 1: Click "Smart Card Application Status" Option on the home page.
Step 2: Now Enter the reference number which you received while registration of family card on your mobile and press "Submit" button.
Also Read: TNPDS Card Status Check Online
TNPDS Smart Card Name and Address, Phone Number Change
If you already own a Smart Card and need to change the details adding a new member, removing member, Address, phone number changes, you may use the following Smart card related services.
Access Smart Card related services:
Visit Homepage and click what are all the services you need to perform > Enter your registered mobile number to receive OTP details to make changes for each service.
Add Member – Adding a new family member into the smart card (Child, Spouse).
Change of Address – To make changes on your old address into a new address.
Family Head Member Change – To change family head member name in smart card.
Remove Family Member – To remove the family member in smart card because of causes.
Card Related Service Request Status – To perform other smart card related services requests to make quick changes.
How to Add Mobile Number or Change in Ration Card
You must have registered your mobile number on the ration card. But cannot be registered at the ration shop. The shopkeeper will tell you to go to the regional office. But it is not necessary. So follow the below steps to add or change your mobile no.
Step 1: Call 1967 and press Tamil as preferred Language.
Step 2: Next Family Card Holder? Press 2 and the service officer will talk to you. He will ask for the number above on your ration card. *E.g. Say 005 / w / 33657778 *.
He will then ask for the reference number of the person on the family card. You must have your ration card and Aadhar card on hand before making a phone call.
Step 3: After answering both the questions you can register the mobile number of your choice. or change previous number.
Your mobile number will be activated in the next 2 minutes.
Smart Card Customer Care Number in Tamilnadu
If you have any queries you may contact with official smart card helpline numbers as follows,
Call: 1967 / 1800-425-5901
TNPDS Frequently asked questions
What does a ration card mean?
Ration card helps to ensure food security to all citizens, particularly poor people, by making available essential commodities of good quality at affordable prices every month, through fair price shops which are easily accessible. Source: tnpds.gov.in
Who can apply for a ration card?
In Tamil Nadu, applying smart ration cards is a very scalable one and the whole process has been completely automated through an online portal named tnpds.gov.in. So consumers are able to apply, easily make changes, track the status of cards etc..
What are the 4 types of ration card?
Below are three different types of cards that will be available.
Green Cards (Rice Option Cards) – All commodities
White Cards (Sugar Option Cards)- All Commodities except rice
Khaki Cards (Police & Prison personnel Cards)
Blue Cards (Forest Officials cards)
What is FPS code in a ration card?
FPS means by Fair Price Shops this is established to ensure that no cardholder has to walk beyond 2 km in any village or location. The Government is willing to open part-time shops where the FPS is farther than 1.5 km.
How can I add my child's name in a ration card?
To make name changes and corrections in family card users need to head over to the official portal. Correct your smart card > Correction of Details and enter your login credentials then make your changes.
How can I change my ration card address?
In order to add your current address in your family candidates need to make changes through an online portal at tnpds.gov.in. Once you head over to find "Change of address" under "Smart Card Related Services" Section.