Well, this article is for the ones who have already applied for a PAN card and are eagerly waiting for it to get dispatched at their doorstep. If you have already applied for PAN, then you must be aware of the fact that it takes at least 15 days to get a PAN card. If you are worried about the status of your application, there is a simple way to know the PAN Card Status. You don't even need to be a computer guru to do this; basic skills are pretty enough to do.
This will be helpful to those who have applied for a PAN card through third-party offices, net centers, or PAN agents who would never assist once they get their commission. So you can check your PAN status and contact them if anything goes wrong.
How to check PAN card status?
There are various ways to track down your application status, and it completely depends on the way you have followed to apply for PAN. One will apply for a PAN card through NSDL or UTIITSL, two portals that issue PAN cards on behalf of the IT department of India.
Checking through NSDL, if you have applied through NSDL.
Checking through UTIITSL, if applied through UTIITSl.
Checking through SMS.
---
Checking PAN card status through NSDL
National Security Depository Limited, NSDL is a portal that issues PAN card and also helps to track the application status. Here is how to know your NSDL PAN card status.
Details required
Before proceeding to the NSDL Portal, you need to keep some details handy to ease the process. Make sure you have all these details.
Application Type: Refers to the type of application you have applied for. Either PAN or TAN.
Acknowledgment Number: A temporary number that is generated when you have applied for a PAN card
You will land on a page that displays a simple form asking you to enter the details mentioned above.
Step by Step process to check PAN/TAN Card Status with NSDL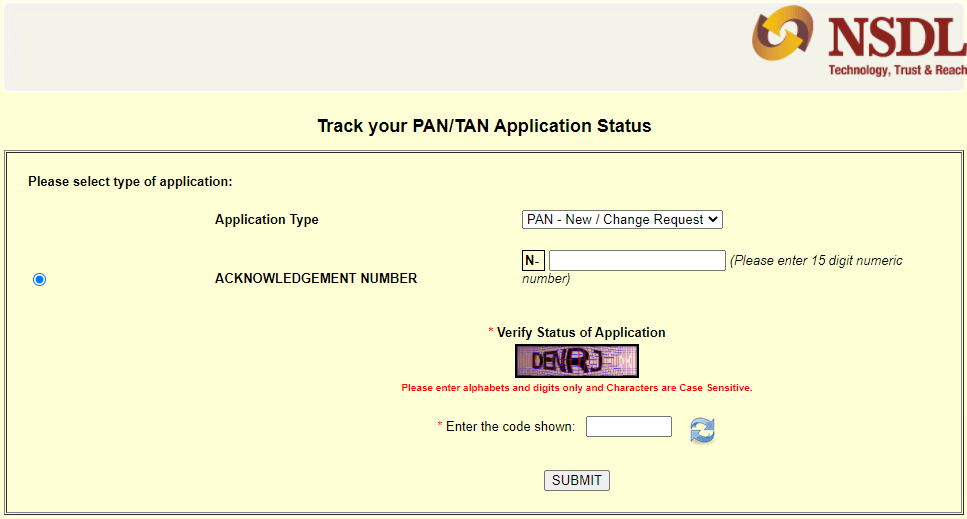 Step 1: Visit: NSDL Tracking Page and you need to choose either PAN or TAN new/change request as per requirement.
Step 2: Now enter the acknowledgment number or your personal details whichever you feel easy.
Step 3: Enter the verification and press the Submit button. Now you can see your verified PAN card details. And it acknowledges that you have successfully obtained a new PAN card.
We suggest you go with the personal details option as it would be easy. In case if you have an acknowledgment number you can go with it.
---
Steps to Check PAN card status through UTIITSL
This method is for the applicants who have applied through the UTIITSL portal. Before verifying the status of the application through UTIITSL, you need to have a coupon number that is issued to you at the time applying for a new PAN. This is something similar to the acknowledgment number.
Step 1: Visit UTIITSL portal ( https://www.trackpan.utiitsl.com/PANONLINE/#forward ) where you will find the application coupon number or PAN number field enter any of the details.
Step 2: Now, enter Date of Birth details and Captcha details hit the Submit button.
Step 3: Finally you will see your PAN card details.
---
Checking your PAN card status through SMS
You can also know the status of your PAN card through your mobile. This method doesn't require any Internet. All you need is to just send an SMS in the below-mentioned format.
PAN <space>15 Digit Acknowledgement Number.
Type the message as above and send it 53030.
You will get a return message with your PAN details.
The above-mentioned methods are easy to check your PAN status. It's just a click away, and also you can use the PAN number that was generated if you desperately need it to submit.
---
What is a PAN Card?
PAN card, a digit alpha-numeric identity is all that you need to carry out any financial transactions in India. It is one of the most important requirements and must be attached to all types of monetary exchanges. It is a must-have proof of identity. Post demonetization in India the importance of PAN card has exponentially raised. Now it is advised to have a PAN card with every individual or business person who is above 18.
Permanent Account Number is one of the key identities that contribute to the country's economy. If you don't understand how? Here is a short explanation.
PAN card legalizes and identifies every transaction in India if it is attached to it. This would help the government to keep track of the country's transactions and cash flow. In this way, it would help the country's economy by reducing Black money.
---
Importance of PAN Card in India?
In India, it is mandatory to have a PAN card if you own or are going to start a business. Every business person must have a PAN card to validate his business transactions. Due to the digital India mission and to support startups, the Government has eased the process of issuing the PAN. Nowadays you can get a PAN card in a day.
If you haven't applied yet, then you should do it now. If you aren't aware of the method for applying for a Permanent Account Number, then this simple article will help you apply for a PAN card in 5 minutes.
---
Final Note
The first two methods are case-specific and are done accordingly as per the type of application. While the SMS method is for the NSDL application only. So we suggest people apply through NSDL as it is easy later on due to the support offered by NSDL later on.