IFMIS Telangana Treasury Payslip 2021 Download | IFMIS Bill Status | Telangana Govt Employees Payslip Generation @ https://ifmis.telangana.gov.in/get_payslip
IFMIS (Integrated Financial Management and Information System), introduced by Finance Department. This is a dedicated portal for Telangana government employees to do multiple finance activities such as payslip download and collections of utr report, current budget values, various challans preparations and downloads, Treasury challans.
| | |
| --- | --- |
| Scheme | Integrated Financial Management and Information System |
| Introduced by | Government of Telangana |
| Beneficiaries | Telangana State Government of Employees |
| Benefits | Payslip Download, UTR Report, Challan Download |
| Official Website | https://ifmis.telangana.gov.in/ |
IFMIS Telangana Login
Visit: Official IFMIS Portal.
Enter your Username and Password.
Enter Captcha and press the "Sign In" button.
How to Download IFMIS Salary Payslip | Bill Status in Telangana:
To download the Govt Employees Montly Salary Payslip follow the below steps.
Visit the home page and click the Payslip option in the menu bar.
To Generate a payslip there are two different methods available.
First, one was Employee Code other one was Account Number so choose your preferred method.
If you choose the Employee Code Option Enter your Employee Code after entering the Captcha details and press Search Option.
Or If you choose Account Number just enter your bank account number in Employee A/c No Box after filling the captcha code and press Search Option.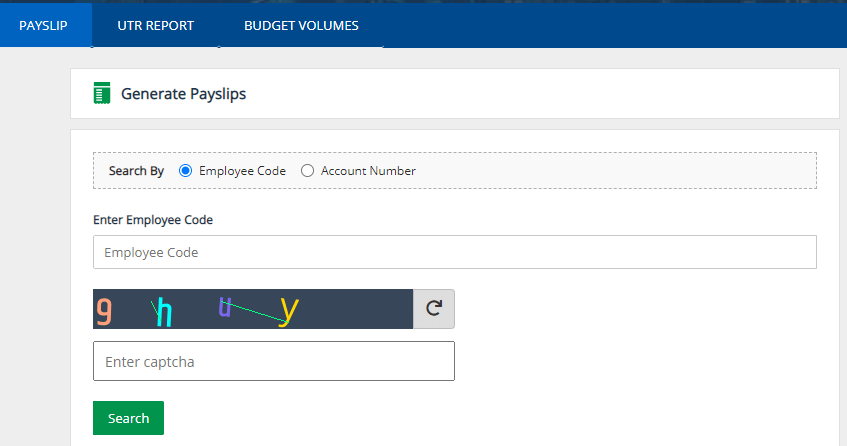 Now you can be download your respective payslip. Take a printout copy of your payslip for future purpose.
Also Read: IFHRMS Login and Pay Slip Download
Download UTR Report
Visit: https://ifmis.telangana.gov.in/utrreport
Now you will see the UTR Report Page.
Now Select the Financial Year and Enter UTR Number.
Now press the Search button.
Challans Download in IFMIS Telangana:
There are four different of Challans has been available to download in Challans Page.
Challan Form
Challan Form for E-seva (Transport)
Challan Form for Tstsl
Foreign Service Registration
Download Challan Form
Visit the home page and press Challan Form Option.
Choose your Treasury City.
Then Sub Treasury City.
Enter your 11 digit DDO CODE and download the Challan Form.
Challan Form for E-Seva (Transport) and TSTSL in Telangana
Here the following steps to download the E-seva Transport department Challan in Telangana.
Visit the Official Page: https://ifmis.telangana.gov.in/rta_manual_challan_entry
Now Enter the following details Quarterly Tax on Vehicles, Life Tax on Vehicles, Fees, Service Fees, Postal Fees, Green Tax on Vehicles.
After Choose the Remitter Name you need to pay the fee.
Then the final step will be to Enter the mobile number and click the Print Challan option.
Foreign Service Registration in Telangana
Steps to Registration for foreign Service Organisation in Telangana at IFMIS.
Visit the official page: https://ifmis.telangana.gov.in/foreign_service_registration
Then complete the registration form with the required details and press the "Register Now" button.
Cyber Challan Details Report in Telangana
To download the Cyber Treasury Challan Details in Telangana follow the below steps,
Visit: https://ifmis.telangana.gov.in/cybertry_challandetails
Choose the Challan No and Press Submit button.
To Download Department Wise Challan Enter the Dept Code and Dept TransID and press the Submit button.
Download IFMIS Telangana Mobile App
Follow the below steps to download the IFMIS Telangana Mobile App on Google Playstore. First of all open Google Playstore App in mobile and Search for IFMIS Telangana and then the will be displayed on the screen.

Or Visit this direct links IFMIS Telangana on Google Playstore
Now press Install option and use your login details to check your account details. After installing the app you will noticed following options.
DDO Dashboard
In DDO Dashboard there are various details included Submitted Bills, Employee Master, Bill Status, Pay Slip.
Employee Dashboard
Candidates can be View and Edit their profile and know their No bills details (Salary Bills, Supplementary Bills, Other Bills, and Payslips.
Check Bill Status
Employees can check their dedicated bill status details using Financial Year, URN Number.
IFMIS Telangana Youtube Resources:
DWA DDOs Full Tutorial Link: https://youtu.be/ker7MRrl3og
DWA PAOs Full Tutorial Link: https://youtu.be/vi1SYgZybno
Generate DDO Code Link: https://youtu.be/iqaLS9xg5Mc
Generate Employee Code Link: https://youtu.be/sseREP7fd88
Pixilvide IFMIS Youtube Channel for more videos:
Visit: Pixilvide @ Youtube