Online Learning Apps for education has been gradually increasing in India. Due to COVID19 outbreaks, many students know the value of online education which gradually changes comparing other developed counties. EdTech companies will solve the real-life hustle in education and that will make learning more accessible to everyone accesses through mobile apps and the web.
So what are all the best online e-Learning Apps available for students in India and how it will bring benefits to students?
So in this article, we listed collection best Interactive E-Learning Mobile Apps for Online Classes for K-12, Classes from 1-12, Competitive Exam Preparation, Online Mock Tests, State Board and Central Board CBSE, ICSE, JEE, and more. All apps can be available from Playstore and Appstore download and start to learn anywhere and anytime.
Best Online Learning Apps for Education in India
1. Byjus
Byjus The Most valued Education App in ED-Tech Industry it's evaluated over on millions. Byjus offers Online Classes from Class 4th to 12 also Online Classes available for NEET also. Also they offer a learning experience with conceptual clarity through high-end visual presentation. They offer comprehensive e-learning programs for K3, K10, K12 and JEE, UPSC, State board / CBSE / ICSE, and IAS Coaching and Other Bank Exams conducted in India.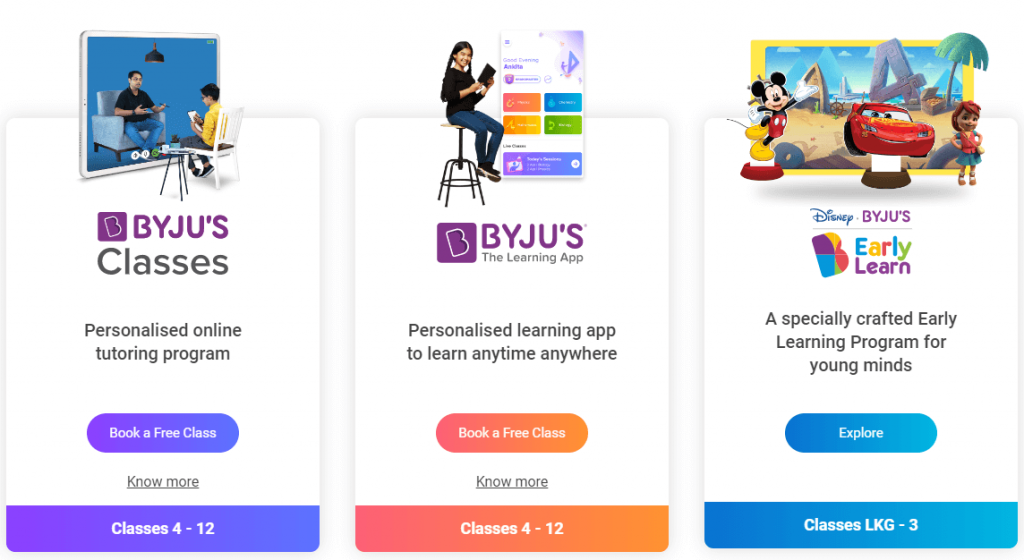 Learning Programs offered by Byju's:
Buju's classes for the personalized tutoring program.
Byju's App for personalized learning app to learn anytime anywhere.
Disney + Byju's Early Learn which specially designed for an early learning program for young minds.
Main Features
Instant doubt resolution
Free Class with India's best teachers
50,000+ videos and tests
Learn concepts through a path that adapts to you
Cover your entire syllabus in a fun and interactive way
Free Study Materials
Platform: Android, iOS
Get Byjus app for Android | iOS
2. Vedantu
Vedantu is an online tuition app for Live and Interactive Online Learning which offers learning programs from Class 1 to 12, CBSE, ICSE, NTSE, Olympiads, IIT JEE (Main & Advanced) and NEET, and Much more. Special Programs include Reading Classes for age 4-6 students and Coding Classes for age 6-14, Crash Courses for both JEE and NEET. Also, Vedantu includes Grade 1 to grade 12 solved solutions and free study guides and materials for school students.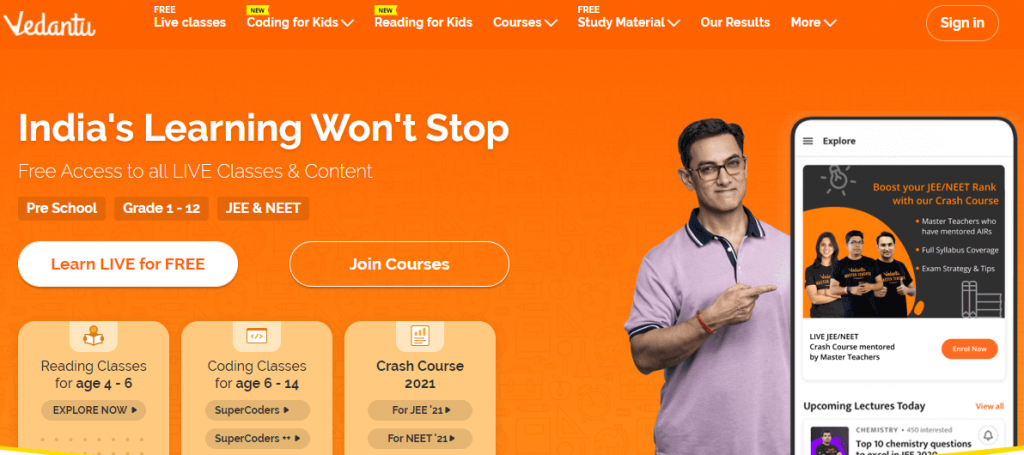 Main Features
Live Interactive Classes
Learn from Best Teachers
Tests, Notes & Study Material
Learning new things with VStories
Play, Learn & Earn with Quiz Every day
Free Live Classes
Platform: Android, iOS
Get Vedantu App for Android | iOS
3. Toppr
Toppr is a popular Learning App in Indian Ed-Tech Industry. Topper serves over 22 popular boards includes CBSE, ICSE, IGCSE and UP, MP, Rajasthan, Maharashtra, and many others. 58 Competitive exams such as JEE, NEET, CA & Scholarship exams IMO, KVPY, NTSE, and more. Also have different competitive exam learning programs such as topper JEE, toppr NEET, toppr STAR.
Toppr Online Programs
toppr coder – Live Interactive 1-1 coding classes for young learners
toppr xplor – live group for hobbies and activities
toppr answr – Best homework app platform for instant QA
toppr schoolOS – End-to-end School Operating System for K12
Main Features
Better learning Better results
Watch learning videos for free
Your doubts answered instantly 24*7
Build strong fundamentals with concepts
Play learning games with your friends
Platform: Android, iOS
Get Toppr App for Android | iOS
4. Unacademy
Unacademy provides comprehensive courses for UPSC, SSC, IIT JEE, CAT & more exams. Includes 600+ Top Educators with the best Coaching Platform. Coaching by Top Educators. Over 60+ exam Categories include UPSC, CSE-GS, ITT JEE, NEET-UG, SSC Exams, CBSE Class 12. Students participate in online classes and practice sections and mock tests, lecture notes available to download in PDF format for your revision.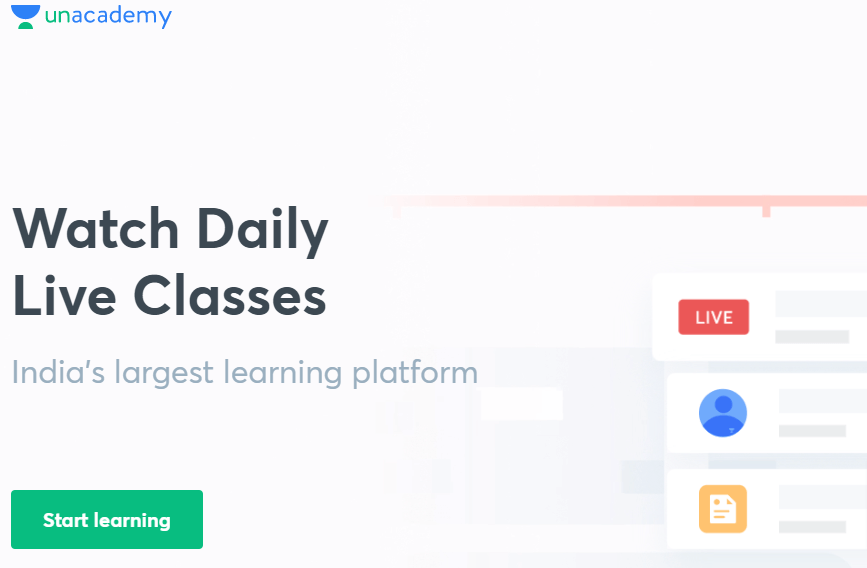 Main Features
Courses & Batches
Daily Live Classes
Ask Your Doubts
Tests & Quizzes
Personalized Dashboard
Platforms: Android, iOS
Get Unacademy app for Android | iOS
5. Gradeup
Gradeup – The Exam Preparation App helps to prepare for Entrance exams like IBPS, GATE, ECGC, SBI, SSC, RRB, and Entrance Eligibility Tests like CTET, UP TGT PGT. Online coaching for UPSC, Defence, MBA, Law, etc. Also, get previous year solved papers, unlimited practice questions, updated daily quizzes, recorded video classes, clear doubt solutions upcoming exam notifications & much more.
Main Features
Daily Live Classes
Practice Daily Quizzes
Current Affairs with Quizzes
Previous Year's Papers
Smart & Effective Preparation
Unlimited Mock Tests
Platforms: Android, iOS
Get Gradeup app for Android